Building Information Modeling Services: Allowances and Challenges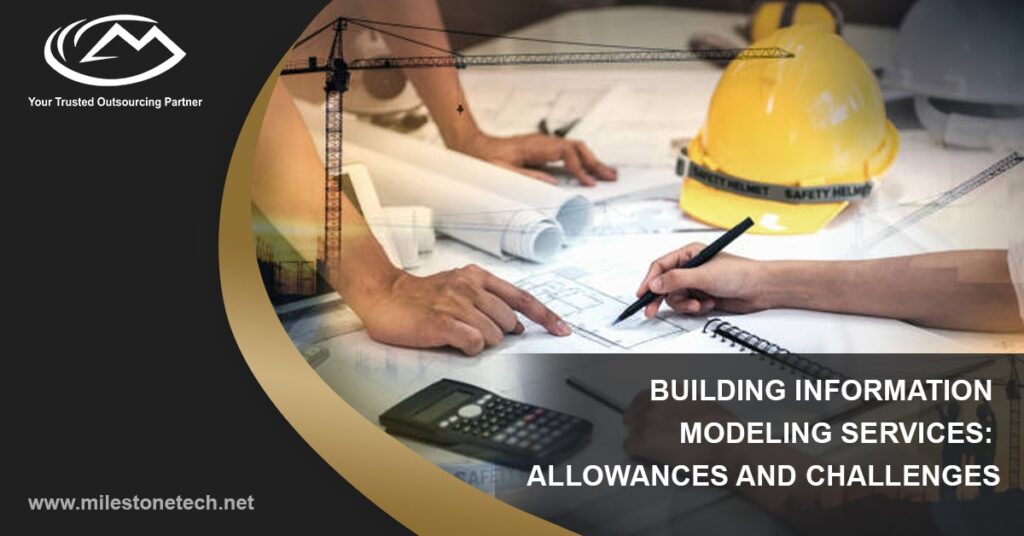 The field of architecture and engineering is one of the most notable recent developments. With the help of building information modeling you can produce a thorough online model that is refined digitally.
A BIM can be used to as an model for many different facets of the construction process. Unlike a blueprint, BIMs can allow you to see any possible design errors and help architect, engineer, and contractor visualize what needs to be built by allowing them to do so in a replicated environment.
Enhance Productivity
 The BIM design services will combine architecture, engineering and construction. The use of these services can reduce project cost and increase productivity while decreasing delivery time all while looking into preventing clashes in the BIM Clash Detection Services
BIM models allow tangible buildings to be simulated in virtual environments, while also replicating the construction of a building in a process known as BIM.
Maintenance Purpose Uses
 After the building information model is created, then there will be appropriate geometry and data that is needed to help with the design and fabrication, construction, and other design and operations purposes. The completed project can then be used for maintenance and operations.
A BIM model of a building captures spatial information, geographical information and specific points about the building. This information can be used by AECs to demonstrate how a construction cycle would turn out.
For example, 75% of the cost of building a skyscraper is spent on maintenance and demolition, while less than 10% is spent on design. This compares to 20% spent on construction. Maintenance and demolition are the second largest source of business expenditure, after human resources.
Isolation of Work Scope
3D BIM Fire Protection Modeling is helpful in relation to a building's fire protection. The infrastructure can be completed in the office with the help of modeling which makes the scope of work and relationships with construction documents, drawings, submitter processes, procurement details easy.
Future Challenges
BIM enhances the economic benefits and productivity of AEC. The technology is readily available, but it isn't being adopted as quickly as expected. There are 2 main reasons for this: one being technical and the other managerial.
BIM Challenges faces are based on the need for interoperability in transaction construction processes, the digital information that must be commutable, and the exchange and integration of relevant information between different parts of a building model.
Right now, there is no consensus about how to use BIM for construction. Unlike other practices in construction, there is no single BIM document that instructs on its use–so managers are unclear of the best ways to implement and use BIM.
There are several software programs that have a focus on BIM, but they don't take into account the entire process. There needs to be guidelines of what is required in the BIM process and how everything should run.
To make BIM performance more efficient, companies must work with the vendors to find a way to make the learning process easier for those trying to enter the industry. This can be accomplished through software that produces an easy-to-understand product and one that will be reliable and able to meet customer expectations. The industry will also need processes and policies that promote BIM use.
To overcome these challenges and other risks, experts are looking for solutions. There's a lot of people working to make it happen so that the use of BIM will continue to increase in the AEC industry.
In the past, facilities managers were given mostly reactive roles during building construction. They would maintain the building after it was finished and working. In the future, BIM modeling may allow them to actively partake in the planning process of buildings and have a major role in influencing buildings.
The visual nature of BIM allows all stakeholders to get important information, ensuring they are included before the building is completed. Managing when these people are included will be a challenge for owners.
Conclusions
The BIM program is a new way of doing things in the field of architecture. It encourages the integration of all players who, in the past, were enemies because they each had their own roles. This has led to efficiency and harmony among those who before would have been at odds with one another.
Collaboration is a key component in the success of any project and BIM will enhance this collaboration by increasing the amount of support in an industry filled with fragmentation. To get to this point, it is important that the future generations value critical analysis which has not been the case in the past.
How Milestone PLM Solutions can help you gain expertise in your business?
Milestone is a multidisciplinary company and caters in CAD drafting and modelling, AEC and BIM services since 2004. We majorly work in Mechanical, Architecture and Civil domain across te globe. With a team of experts, we can help you and your team in performing better and faster than your competition. You can outsource you CAD Design, Modeling, rendering, Construction documentation and BIM services, and we assure to you guaranteed quality results with the quickest Turn Around Time possible.
You can email us at info@milestonetech.net and can log in to our website www. milestonetech.net  to know more about our services and our work portfolio or contact us on  +1-844-598-0005