Benefits & Advantages of Rapid Prototyping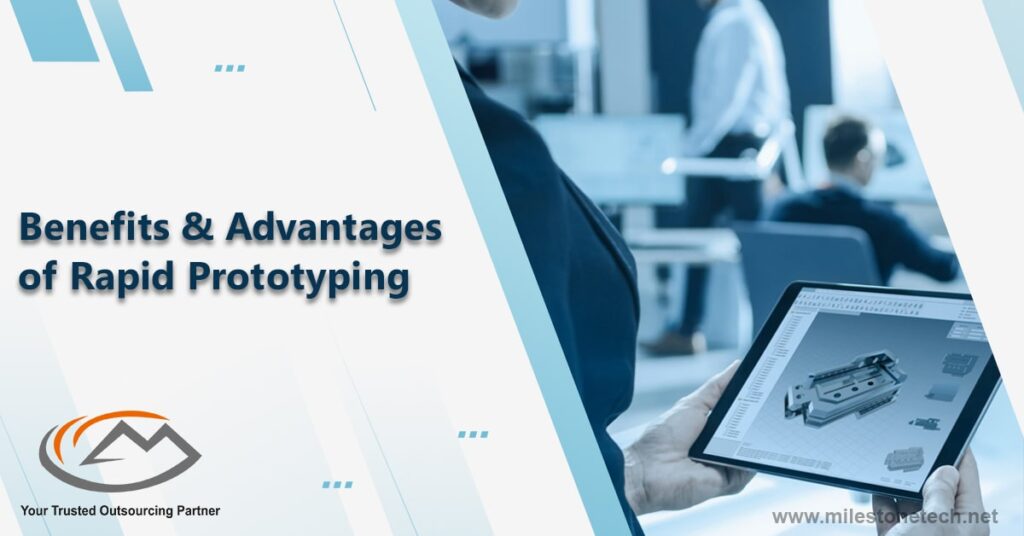 Technology has improved enormously by leaps and bounds with increased efficiency in the use of tools and materials.Advantages of Rapid prototyping are as it allows for design validation, customization, and personalization, catering to specific user needsWith rapid prototyping, you can rapidly develop prototypes or new models that you can use to test design features, concepts, and performance. Rapid prototyping is definitely one of the most advanced processes that manufacturers have in their toolbox.
Prototypes can be printed on a range of materials such as, acrylic plastic, ABS plastic, and flexible rubber. Prototypes can be made to look and feel like the real model; they are often used to perform field tests before manufacturing on a larger scale.
Some of the Major Advantages of Rapid Prototyping are :-
Customizing the Prototypes
What if I told you that you could customize your products without sacrificing quality? Well, it's true. Rapid prototyping allows you to create customized products that meet the needs of each customer—and that's a win-win situation. Your custom product will be one-of-a-kind, which means it won't hurt your pocket when selling at a premium because there is nothing else like it in the world!
Lowered Cost
Heavy marketing often means budget reduction, but with the new design process, you'll have a much lower budget. More importantly, customers choose the design of the prototype, so it doesn't take away from your time and funds. Instead of investing in advertising, invest in building your audience and product at the same time on a Kick starter-style model. This way you can spend less on advertising and pass these savings on to your customers.
Increased Profits
 Rapid prototyping creates a 3D representation of your product without any additional equipment purchases. This will save you time and money since the processes necessary to produce prototypes are largely automated. You'll also find that your manufacturing costs will be reduced, which will eventually lead to an increase in profit.
Purchases are Increased
A photo, design, or video of a product can be misleading- customers may think they're purchasing one thing when the product is something else entirely. Prototypes allow customers to see the product and feel it in real life before making a purchase. This is great for buy-in from investors and marketers who want people to interact with the prototype at trade shows and festivals. The more interest generated by prototypes, the more likely that products will be purchased down the line.
Instant Feedback
Rapid prototyping offers an unprecedented opportunity to engage in design feedback with the prototype of your product while it's still in development You'll get the opportunity to touch, feel, and see a replica of your finished product and provide honest, hands-on feedback to the designer. The designer will make any necessary adjustments or add new features to create the perfect final product. Imagine how different this is from simply having a computer mock-up of a product and trying to see if there are flaws in its design.
Market Visibility is Increased
To maintain a competitive edge in today's rapidly evolving global market, you need to have concepts and prototypes readily available. Your ideas need to be more attractive, and they need to move faster than your competitors'. Another benefit of rapid prototyping is that it allows you to create complex models and produce those models in record time. By taking this fast-track approach, you can get the final product out quickly, which is critical for success. Being first to market could make the difference between being a thriving business or going bust.
Complex Products can be Created with less Hassle
Rapid prototyping can help businesses produce more realistic and complex products. In intricate situations, you can use the technique to test ideas or try a less complex solution to see if it solves the problem.  Airlines in particular depend on strong, durable parts that are made using rapid prototyping in order to run tests and make modifications before going into mass production.
Rapid prototyping has many advantages. By creating prototypes of your designs early on, you'll be able to tweak them as needed later. It's also beneficial because you can create products that customers will love and get to them fast and affordably. Advantages of Rapid Prototyping are it accelerates the product development process, enhances quality, and fosters innovation.
Follow Milestone PLM Solutions for Mechanical Industry Updates, CAD Tips and Global CAD, CAM & FEA News. 
Milestone PLM Solutions  with its exclusive delivery center in India is a global CAD, CAM & FEA services outsourcing partner serving the needs of the Mechanical, Millwork and Automotive industry since 2004. MILESTONE focuses on the unique needs of clients and believe in tackling real-life problems with efficiency, smooth and ease.
The MILESTONE team can assist you with Product Design, 3d Modeling, Drafting & detailing, Reverse Engineering, FEA Analysis and more. We support multiple software including AutoCAD, Solidworks, Catia, NX, Inventor, Solidedge & Ansys etc. Our approach is to provide a dedicated team for each customer over ongoing project and deliver the quality output consistently.
With our state of art technology and large talent pool of Engineers, we are developing best in class solutions for our customers across the globe. We align with your culture and values to form unbreakable partnerships and are primed for success with over 100 employees and 150 customers in the US, Europe, India, and Asia.
For more queries regarding any of the above-mentioned topics, feel free to connect with us on our website www.milestonetech.net or contact us on  +1-844-598-0005 .