Benefits of Outsourcing your Architectural Design and Drafting Work.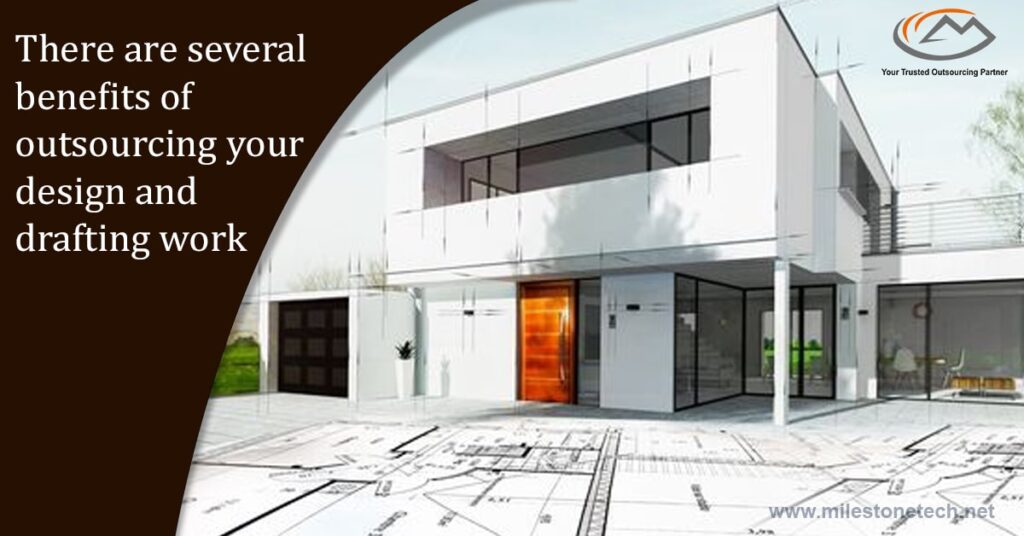 In an AEC industry, companies may be less susceptible to Silicon Valley disruptors since they are rooted in the real world. Despite this, many CEO should realize that their industries still need to change with the times. For example, there will always be people needing buildings, who's jobs won't go away.
With the rise in population, the Construction and Architecture industry needs to transform. Learn how it can do so and increase efficiency by 50-60% while adding $1.6 trillion in annual global output.
Business Executives are aware that there is a high probability that construction will be impacted, and they are considering how best to get ready.
Outsourcing Architectural Drafting Services
Some companies are turning to outsourcing architectural drawings for a variety of reasons, including the cost-effectiveness and availability of high-level knowledge.
Outsourcing work to other agencies allows a company to grow its business and focus on their own purpose. Outsourcing basic chores like sketching, mark-up correction and 3D modeling expands a company's options while also keeping it cost effective.
Benefits of Outsourcing architectural Millwork Drafting Services
Outsourcing engineering design can help a company shorten product life cycles, reduce time to market and provide access to trained experts. Outsourcing also minimizes overhead.
Architectural drafting is rapidly expanding into new international sectors. Due to the economic benefit of hiring an architect from overseas and having more control over the final outcome, this is considered a popular alternative for many businesses. When opening a home office or extending an existing building, architectural engineers can often save time by drawing up blueprints from another country.
Our strategic growth approach utilizes the potential of outsourcing, which can get you the results you want.
Design and Drafting Services
Outsourcing isn't necessarily expensive and can be a viable option for any company. This method of outsourcing allows companies to take advantage of the global CAD skill set and utilize time more efficiently.
Be sure to have clear goals for all your projects. Share them with your outsourcing partner so that everyone is on the same page and can interpret changes in goals if necessary.
Determining competencies and expertise, have your chosen professional's work and successes looked into.
To guarantee a low risk process, get feedback from your drafts.
When outsourcing work, make sure to communicate your strategy and culture with the project management team. With this information, they will know what you are asking for and better equip themselves for meeting your needs.
Benefits of Outsourcing Architectural Design And Drafting Services
CAD outsourcing provides a competitive cost-effective solution. Companies can use the competitive talent pool to complete CAD design and drafting in a shorter time frame. This allows companies to focus on their core competency and more strategic projects.
The growth and recovery of Architectural drafting service companies is due to the COVID-19 impact. The growth of the market will be at a CAGR of 12% from 2020 to 2026, from 4.69 billion USD in 2021 to 8.40 billion USD in 2026.
Key Advantages with Outsourcing Architectural Design and Drafting Services
Specialized Expertise
you can quickly build an engineering and design team with a variety of technical resources. With experienced AI specialists such as "architecture models" and the ability to generate and edit isometrics and bills of materials.
Adaptable Engagement Models
When you outsource engineering CAD services to a company with a track record, you'll be able to choose a payment plan which meets your schedule. There are flexible engagement models which are tailored to each client's needs.
Improve Productivity
Plantex uses innovative CAD solutions to reduce design complexity. By consulting with Plantex, engineers are able to explore creative ways for efficiency that tools and input from the company's experts.
Comply with International Standards and Codes
Precision is critical to structural engineering. With outsourced partners that meet regulatory standards, you have a quality product, guaranteed.
Affordable and Competitive Solutions
With the help of a CAD partner, you can save on project cost. With creative designs that save time and boost efficiency, a CAD partner can add value to your company with quick turnarounds.
The Future of Construction lies in Collaboration
All businesses in the construction industry will need to develop a plan on how they will handle disruption. The materials distribution, logistics and general contracting are particularly at risk of being marketing and should be spending money on collaborating with agile businesses.
The demand for CAD services means there is a correlating increase in drafting services. The practice of designing and drafting products, structures, or other things while using computer technology is known as computer-aided design CAD which has been further advanced by AUTODESK recent sales.
Collaborating on construction projects is difficult  workers need to be supported, the process needs to be easy and they must always be encouraged with incentives.
Transparency can be achieved through a simple framework. A construction project's tasks, whether at the site or as part of the design process, can be assigned to certain people. With this transparency, there are positive and negative consequences for not completing a task.
Your work must be clear and original to your claims. If you are responsible for the part in good work, you get recognized and invited to more project teams.
How Milestone PLM Solutions can help you gain expertise in your business?
Milestone is a multidisciplinary company and caters in CAD drafting and modelling, AEC and BIM services since 2004. We majorly work in Mechanical, Architecture and Civil domain across te globe. With a team of experts, we can help you and your team in performing better and faster than your competition. You can outsource you CAD Design, Modeling, rendering, Construction documentation and BIM services, and we assure to you guaranteed quality results with the quickest Turn Around Time possible.
You can email us at info@milestonetech.net and can log in to our website www. milestonetech.net  to know more about our services and our work portfolio or contact us on  +1-844-598-0005