Top 7 Key Benefits of Embracing a BIM Execution Plan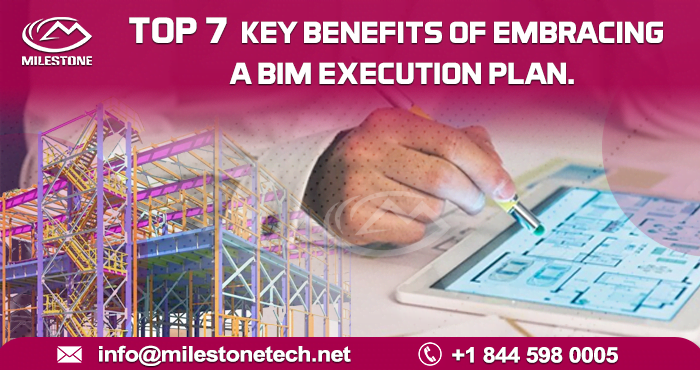 Building Information Modeling (BIM) has revolutionized the architecture, engineering and construction (AEC) industry. With BIM, a digital representation of the physical and functional characteristics of a facility is created, which serves as a shared knowledge resource for information about the facility. This collaboration and information sharing is enabled by adopting a BIM execution plan. A BIM execution plan defines the processes, workflows, software platforms, and asset information requirements needed to deliver a BIM-enabled project. It sets out the roadmap for integrated project delivery using BIM. Embracing a comprehensive benefits of BIM execution plan as follows:
1. Improved Project Coordination
A BIM execution plan allows different project stakeholders – owners, architects, engineers, contractors – to coordinate their work in a collaborative environment. It defines who is responsible for generating which BIM deliverable and when. With a unified workflow, clashes are detected earlier and schedule delays prevented, resulting in significant time and cost savings.
2. Greater Efficiency Gains
BIM enables virtual construction of a facility prior to its actual physical construction. Clashes and errors can be detected and fixed digitally in the design stage rather than expensively during construction. This results in fewer change orders and less rework on site. The execution plan optimizes uses of BIM for efficiency gains across project lifecycle.
3. Higher Quality Deliverables
The execution plan institutes standards, specifications and processes for quality assurance of BIM deliverables. With defined model formatting, coordinate systems and level of detail, BIM models are created with greater accuracy. They are subject to quality control checks, improving the quality of the virtual model and the actual physical asset.
4. Better Risk Management
A defined BIM execution plan allows project teams to identify risks early and implement mitigation measures proactively. The plan mandates create risk logs, design reviews and clash detection that reduce surprises and prevent errors during construction. This improves overall project risk management.
5. Enhanced Collaboration & Communication
The plan fosters a more collaborative, transparent and integrated workflow between project stakeholders. Responsibilities of design team members are clarified upfront in the plan. Platforms like CDEs ease real-time sharing of BIM models, plans and other project documents, enhancing team communication.
6. Foundation for ADMS & FM
The BIM execution plan ensures the 3D model developed during project design and construction has all the needed information structured correctly for handoff to facility management teams. This enables further use of model for operations, maintenance and management over the entire lifecycle of the asset.
7. Basis for Standardization
A well-defined BIM execution plan can serve as the basis for process standardization across an organization or even sector-wide standardization. Standardized ways of working using BIM enables streamlining of workflows and improves quality through repetition on multiple projects. Clearly, embracing a BIM execution plan unlocks many advantages over the project lifecycle, from design and construction to handover and operations. As BIM adoption increases, a plan will help solidify standardized ways of working and ensure robust information exchange between project teams and stakeholders. With appropriate investment in its development, the gains of following the benefits of BIM execution plan will far outweigh the costs across the board.
Follow Milestone PLM Solutions for AEC Industry Updates, CAD Tips and Global Construction News. 
Milestone PLM Solutions  with its exclusive delivery center in India is a global CAD, BIM outsourcing partner serving the needs of the AEC industry since 2004. MILESTONE focuses on the unique needs of clients and believe in tackling real-life problems with efficiency, smooth and ease.
The MILESTONE team can assist you with DD Set, CD Set, BIM Modeling, Rendering, walk through and more. We support multiple BIM software including AUTOCAD  REVIT, Architecture cad, Vector works etc. Our approach is to provide a dedicated team for each customer over ongoing project and deliver the quality output consistently.
With our state of art technology and large talent pool of Engineers & Architects, we are developing best in class solutions for our customers across the globe. We align with your culture and values to form unbreakable partnerships and are primed for success with over 100 employees and 150 customers in the US, Europe, India, and Asia.
You can email us at info@milestonetech.net and can log in to our website www. milestonetech.net  to know more about our services and our work portfolio or contact us on  +1-844-598-0005