Benefits of 3D CAD Modelling with SOLIDWORKS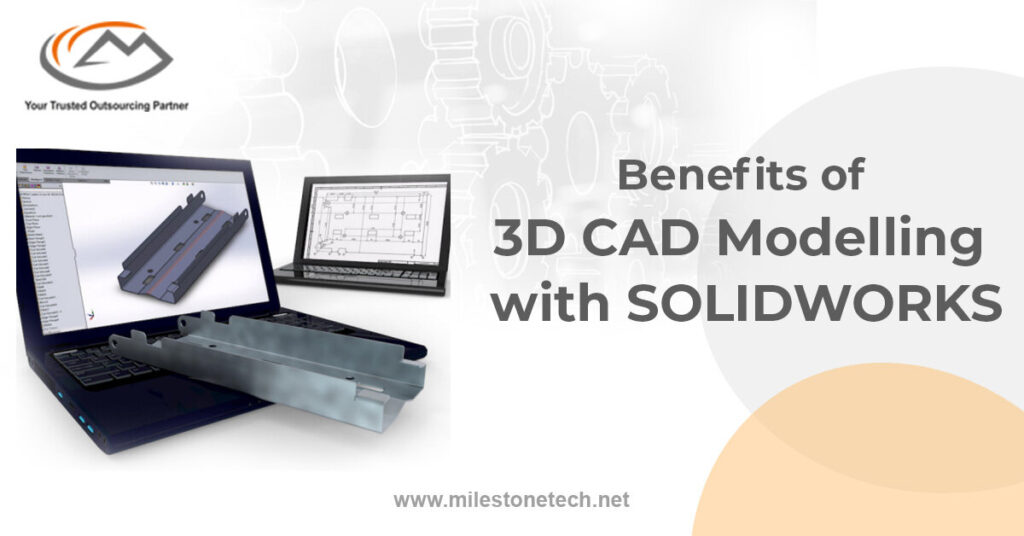 CAD files used to design products and share information internally, are now 3D in order to benefit the design process. SOLIDWORKS 3D CAD software is specially designed for the task and helps with any part of a project's design phase.
CAD data needs to be the "DNA" of IOT companies in the 4.0 Smart industry. Becauseof 3D CAD data used by industrial design development, companies can see increased productivity, collaboration, and creativity.
Calculate the Benefits of Creating a 3D CAD Model in SOLIDWORKS
"This 3D CAD software is currently the most widely used software by engineers and designers throughout the design development phase.Benefits of 3D CAD Modelling with SOLIDWORKS are as it help enginers and designers make  their design into reality with the simulation of the conceptual design throughout various scenarios and make adjustments as needed in the design development process".
The Benefits of 3D CAD Modelling with SOLIDWORKS are as it helps user to securely store the data and retain its versatility and accessibility. For example the users 2D data can be effortlessly imported in DXF, DWG formats and in Auto CAD sections.
The advantages of 3D CAD Modelling using SOLIDWORKS Software are :
Increased Productivity
SOLIDWORKS' 3D modeling allows you to simulate aspects of the design in 3D and detect if there are inconsistencies before it's too late. As a results it increases a designer's efficiency and also helps them meet tight deadlines, thus saving on manufacturing time.
Better Design
3D CAD models come preload-ed with many tools and design templates that will help you create accurate designs quickly. Because of these versatile documentation, options are documenting product geometries, specification of materials.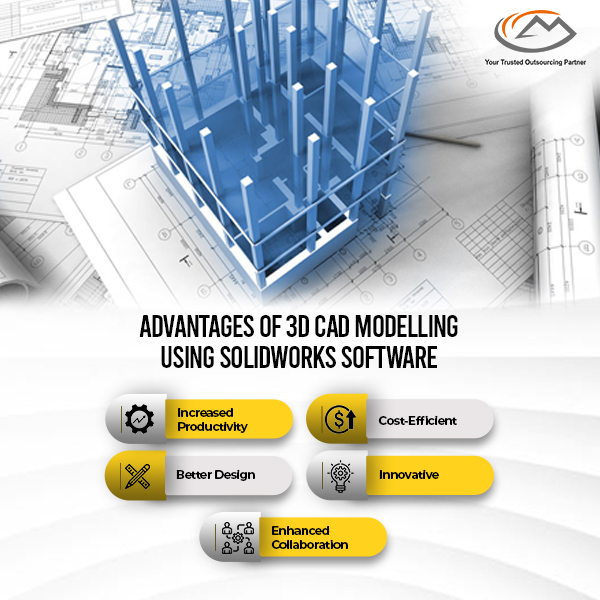 Cost-Efficient
SOLIDWORKS is a cost efficient design software that uses built in components, saving you both time and money. This helps you shorten the design process, speed up time to market, eliminate repetitive costs and shortening redundant design cycles.
Enhanced Collaboration
Teams using SOLIDWORKS 3D CAD software have easy access to all of the data that each team member needs and work together smoothly.
Using a unified forum, it is easy for team members to communicate and collaborate. With automated workflows, the product design project finishes on time and within budge. SOLIDWORKS promotes collaboration between various engineering staffs on product development by offering an integrated platform
Innovative
Other firms do not have an integrated 3D product development framework like SOLIDWORKS. With 3D design, designers can visualize their concepts and create prototypes for new products.
The solution offers the tools engineering needs to revolutionize the design and manufacturing process. The SOLIDWORKS CAD model is accurate and has a wide range of components. SOLIDWORKS stays at the forefront of modeling and design, which makes it essential for 3D drafting experience.
The outputs are consistent. This means fewer opportunities for errors. SOLIDWORKS provides new ways to enhance 3D drafting and design. The latest editions of its product line will take your CAD design experience to the next level.
Follow Milestone PLM Solutions for Mechanical Industry Updates, CAD Tips and Global CAD, CAM & FEA News.
Milestone PLM Solutions  with its exclusive delivery center in India is a global CAD, CAM & FEA services outsourcing partner serving the needs of the Mechanical, Millwork and Automotive industry since 2004. MILESTONE focuses on the unique needs of clients and believe in tackling real-life problems with efficiency, smooth and ease.
The MILESTONE team can assist you with Product Design, 3d Modeling, Drafting & detailing, Reverse Engineering, FEA Analysis and more. We support multiple software including AutoCAD, Solidworks, Catia, NX, Inventor, Solidedge & Ansys etc. Our approach is to provide a dedicated team for each customer over ongoing project and deliver the quality output consistently.
With our state of art technology and large talent pool of Engineers, we are developing best in class solutions for our customers across the globe. We align with your culture and values to form unbreakable partnerships and are primed for success with over 100 employees and 150 customers in the US, Europe, India, and Asia.
For more queries regarding any of the above-mentioned topics, feel free to connect with us on our website www.milestonetech.net or contact us on  +1-844-598-0005