Application of BIM for Multi-Family Housing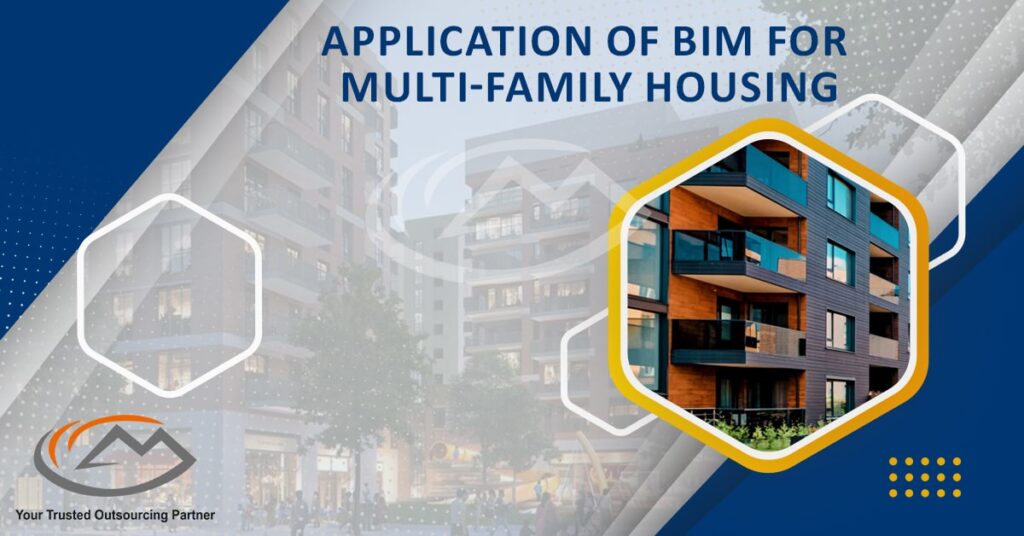 If you need some definitions for any of the words in this article, go ahead and continue reading.Let's assume for this post that Multi-Family Housing is a type of facility in which you can find multiple housing units, but within one building or a few buildings within the complex.
Condominiums are sometimes categorized as units within a multi-unit building.
Rather than renting from a single property owner, these units are usually owned by the individual or family. With co-housing projects, for example, many owners have shared amenities such as kitchens and common areas. Although they're constructed differently, there are certain similarities between co-housing and other multi-family housing units in terms of their parameters.
The Multi-Family Housing and residential space in general are good investments. In most developed nations, these properties account for a significant portion of all construction activity.
Building a Multi-Family Housing building comes with a variety of challenges, such as size, scale, and delivery pressures. However, there are a number of other difficulties that can arise during the construction process
Working with different teams
Being organized
Access to information is one of the best things about the modern age. We have all the world's knowledge at our fingertips, and there is little that cannot be found with an internet search.
Tracking and monitoring will happen naturally when you use Hub Spot by following the in-built functionality.
Right now
The construction and development of an object is a complicated process, and sometimes it's tough to keep track of all that goes on behind the scenes.
The construction and development of any building requires the help of many contractors and subcontractors. These people are using different tools to work on the respective information that's needed for their part of the project. A missing piece of data can cause major problems, This suggests that a centralize platform is needed to share, exchange, and project information in real-time (or close to real-time). BIM would be an advantage in this construction and development process.
Building Information Modeling is a process that helps engineers, builders, and developers by providing them the tools to productively plan, design, and collaborate. BIM allows experts to come together from different fields to create a 3D model to work with while they develop.
Building Information Modeling (BIM) is used throughout the design and construction project to plan and document all building details. A multi-family residential project can benefit from a well planned BIM modelling strategy.
BIM can give you a clear understanding of how and why the building life cycle will vary based on the materials used, as well as how much it'll cost to build.
The advantages BIM processes provide include better project coordination and collaboration with stakeholders, efficient work processes, better 3D perceptions, and improved project results.
This is Just the Tip of the Iceberg! Here are Some More Benefits:
1.P

resentation
Working with 3D models can provide much more detail than 2D projects. This gives sales teams the opportunity to generate unique visuals while they sell a multi-family development, which is an excellent marketing technique.
2.Multi-Family Detailing
BIM Software provides the opportunity to create details very quickly. It is also a great tool for residential building projects, where data can be added quickly to a current form and to communicate relevant information about the project.
3. Money and Time
When you work in a collaborative BIM project, data can be pulled from the files to save time. This is different than having to start similar work all over again, which takes up valuable time. All of the necessary information can then be accessed in one place.
When it comes to multi-family housing, the design of the building is available for all to see in BIM (Building Information Modeling).
This model can be used for analysis to explore different structuring options and to create visualizations that help stakeholders understand what the building will look like before it is built.
Building Information Modeling is a technology that creates design documentation for construction. In doing so, it helps design and development teams work more efficiently and productively.
BIM data can also help operations and maintenance by capturing information created during the process to benefit workflows and tasks. It will also help procurement and resource planning.  BIM data is a game-changer for your business!
It's well-known that Building Information Modeling (BIM) helps prevent clashes between teams in the construction industry, like plumbing, electrical, and HVAC. With multifamily housing, this is a significant benefit, because you're going to have various layouts and unit designs across the entire campus.
Building Information Modeling (BIM) is an essential tool that can be used at any stage of a facility's life cycle. It helps to ensure accessibility to your facility information and has lots of benefits, like providing a 3D design visualization which serves as a blueprint for construction.
The BIM technology enables us to minimize inconsistencies in the base data of the building, ensuring everything is accurate and complete. As people continue to live their lives and make adjustments to their buildings, this information will be updated. And because BIM has all the modifications and alterations made over time, you'll have access to data that is accurate and complete. This becomes a huge advantage for large building projects with maintenance needs that are impacted by many different people's actions over time.
How Milestone PLM Solutions can help you gain expertise in your business?
Milestone is a multidisciplinary company and caters in CAD drafting and modelling, AEC and BIM services since 2004. We majorly work in Mechanical, Architecture and Civil domain across to globe. With a team of experts, we can help you and your team in performing better and faster than your competition. You can outsource you CAD Design, Modeling, rendering, Construction documentation and BIM services, and we assure to you guaranteed quality results with the quickest Turn Around Time possible.
You can email us at info@milestonetech.net and can log in to our website www. milestonetech.net  to know more about our services and our work portfolio or contact us on  +1-844-598-0005