5 Advantages of Outsourcing BIM Services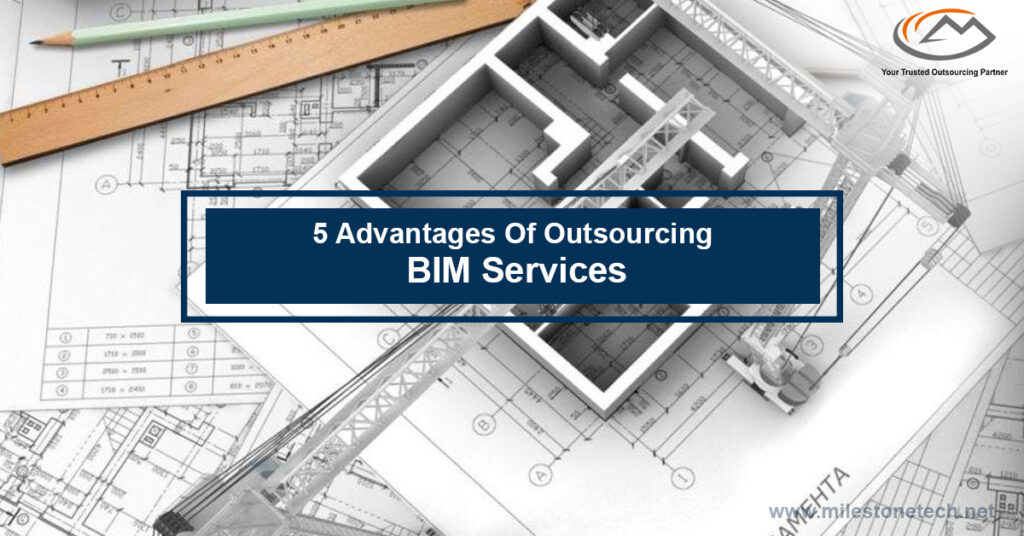 BIM outsourcing services are more efficient than 2D or paper drafting. BIM offers more advantages over traditional design methods. Building design has changed for the better. After BIM's introduction more than two decades ago, designing buildings has gotten harder instead of easier. A look at how BIM can be used to enhance innovative and imaginative thinking.
There are also many companies who are feeling the pressures of time and cost constraints. As professionals in-house become more qualified in BIM, they often have trouble finding time to do their work. It can be helpful to outsource these services if they become unmanageable to those who specialize in these.
Outsourcing has become an important facet of BIM services. 45% of responding general contracting firms have outsourced this service. This trend is confirmed by the following benefits:
Outsourcing BIM Modeling Services will assist you with representing the physical and functional characteristics of a building. The BIM is created by experts using the material that you already have like sketches, drafts, or any two-dimensional drawings that you might have. One of the main advantages of using this software is that your design team can get a complete idea of what you are proposing before the project starts. This includes instructions and changes to avoid mistakes. Once everything has been approved, you can start construction.
If you want to take on Building Information Modeling, there are high costs and risks. You'll need to both purchase software that supports it and find a professional BIM designer with the right experience. It will also require substantial amounts of work and thus time for the person to be worth their salary. Often times, companies are hesitant because of these initial obstacles. By outsourcing your BIM, you can get a team of experts working on your project with high-quality services for a cheaper price because of the diverse selection of firms available. At Ray vat, each project goes through strict quality checks to ensure it's been done perfectly for your needs. The service is provided at minimal costs so everyone can afford it, turnarounds are reduced as much as possible, and any issue that arises is resolved without fail.
The Following are the Advantages of Outsourcing BIM Services
Enriched Visualization
Adding 3D to 2D designs, like in the case of rendering, can really make it easier for people to envision a building in real life.
You will know what your building plans look like before they become a reality and you can plan with more detail. With our high-quality augmented and virtual reality animations, you get to see your projects from the inside.3D printing allows for more complex and efficient designs. You can optimize the design using 3D printing.
Real Time Collaboration
Paper design is a time-consuming task because communication becomes difficult between engineers in different locations. Teams must work together in the same place to plan the design. Otherwise, last-minute adjustments to the design will take even longer on paper.
Reduce Unnecessary Expenses
It is hard to predict what the building will look like in the real world. This leads to many last-minute changes and wastage of materials. With BIM drafting, you can design with precision. This also reduces chances of rework and is cost-effective.
When you outsource to us, you do not have to invest in an in-house team. Hiring us when needed will reduce the expense of maintaining such a team and paying them even when there are no projects available.
Reduce Risk
With , BIM drafting services allow you to instantly detect any clashes in your design. Our software highlights them for you so that you can make adjustments right away.
With better comprehension in construction, the chances of a worker experiencing a serious injury significantly decreases. The ability to collaborate with other workers opens up many options and enables the creation of high-quality work.
Outsourcing BIM saves your company money by reducing and controlling operating costs, ensuring you are ready for sudden increases in demand. You can save on office space, furniture and employee benefits. With regular meetings, online project management tools and a responsive team,
Using a team of engineers from an outside company, you can alleviate risk by ensuring quality and feasibility before work begins. With boundless experience using best practices and industry-standard guidelines, this company gives you confidence that the project is viable.
Increase Quality of Work  
You are assured quality output with our team of skilled engineers and years of experience in BIM modeling. You will have assistance during the process from support representative.
How Milestone PLM Solutions can help you gain expertise in your business?
Milestone is a multidisciplinary company and caters in CAD drafting and modelling, AEC and BIM services since 2004. We majorly work in Mechanical, Architecture and Civil domain across te globe. With a team of experts, we can help you and your team in performing better and faster than your competition. You can outsource you CAD Design, Modeling, rendering, Construction documentation and BIM services, and we assure to you guaranteed quality results with the quickest Turn Around Time possible.
You can email us at info@milestonetech.net and can log in to our website www. milestonetech.net  to know more about our services and our work portfolio or contact us on  +1-844-598-0005