Advantages of CAD Design Over Manual Drafting Techniques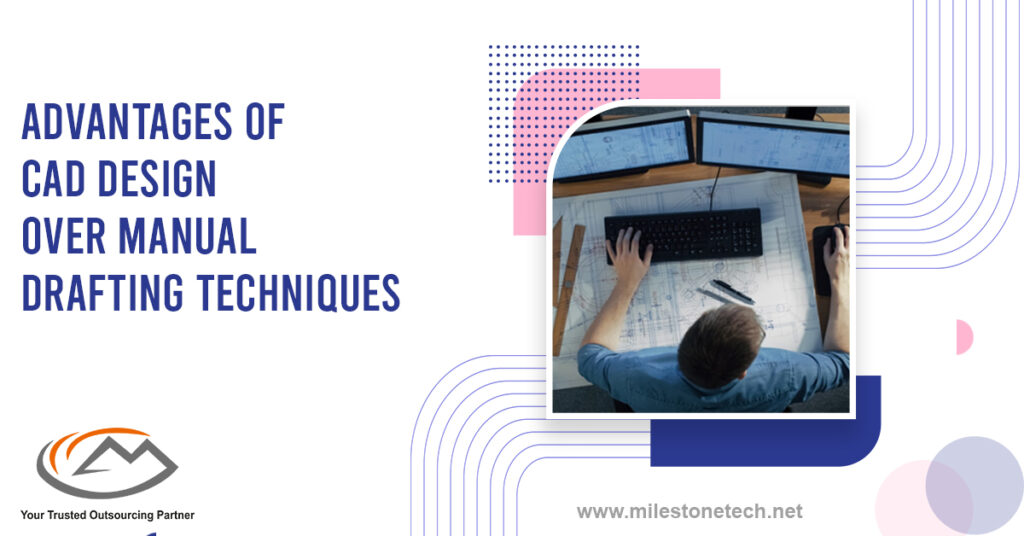 Choosing how to design your product can be complicated, but there are some distinctions. Some people prefer the old sketching on paper method for the tactility of a physical copy, instead of reading one on an e-reader. Other people prefer to do Sketching electronically on their tablet. Most professionals now use CAD Design software running on a desktop or laptop computer.
There are many reasons to choose CAD over traditional drafting methods for the creation of blueprints. One such reason is the fact that instead of comparing two different products on paper, you can understand how they actually function against each other when deciding which product design to adopt. Which type of article would you find more interesting? Which kind would you prefer when presenting investors or trying to pre-sell a product? Presentation is key, and that's one of the benefits of using computer-aided design as opposed to manual drafting techniques.
How Manual Drafting is Different from Computer Aided Design
Manual drafting is the process of using a pencil, pen, marker or other device to create a design on paper. Specific materials and tools are needed for this. CAD technology is able to produce an adequately designed product quickly and design changes can be made without starting from scratch. The introduction of CAD design in the 1960s ushered the way for a complete paradigm shift in product development.
Why Pick CAD Design Over Manual Drafting Techniques
There are many pros and cons to CAD Design, but it is a good option for designing products. CAD technology provides a texture of dimensionality that manual drafting techniques cannot, as well as the opportunity to share designs and data without relying on custom sketching skills.
Changing CAD Files is Easy
Designing a product requires many edits, which we make after considering various aspects. It is rare that clients have the design of their product totally sorted from the beginning. A product's design is never perfect. Even if your design is perfect, you will want to release updated products with changes and additions in the future. CAD design offers different versions of the design without having to start from scratch, which is better than manual drafting. This will save you time because you won't have to redraw the entire design. You can't easily undo a mistake like you can in a computer, so you're more likely to take your time with typing.
Sharing of CAD Files is easy
When it comes to manufacturing your products, one main requirement is being able to share CAD files easily and securely. This is necessary if you want to work with companies that are across the other side of the world. With CAD files, you can create copies of your product designs quickly and easily. This helps you share the design with others for feedback, or allows you to use the one file in multiple processes at once. In contrast to traditional drawings, CAD files are created on a computer. That means they can be backed up more easily, and you can create multiple backups. This creates redundancy for your files, which can help if something goes wrong. As a result, with paper-based drawings, you can't easily share or send the file. You are at risk of losing the original document unless you drew copies and made them into a back up, which is not practical because it's time-consuming and inefficient.
Physical Storage Space is not Required for CAD Files
Recently, we heard of a business that refused to bring their files into the digital age. With nothing more than paper-based documents and half-filled filing cabinets, their office was a mess. Unlike manual paper-based drafting, CAD drawings don't take up a lot of physical space and don't walk away on their own.
When you do graphic design work and need to store your designs, instead of printing them on paper, you can keep them on your computer, on a server, or even on a small drive that fits in your pockets. Now you can access the designs anywhere, any time. In addition to cloud storage, making backups of all your important files is a smart idea. If you need hard copies at any point in time, it's not a problem because you can always print them when you need them. In the event that damage or loss occurs, though, your digital file will be safe and sound.
Manual Drafting is less Eco-friendly than CAD Design
This may not be a big point, but every time you avoid using paper, you're being environmentally friendly. Lets face it, the environment is in trouble. Consumers are looking for companies who are committed to protecting the Earth's resources. To honor that commitment and help both your business and the planet, use computer based drafting techniques. Trees won't be cut down for design creation, and you can work sustainably with solar panels instead of using a lot of power from non-renewable sources.
CAD Files can be Used in Many Different Programs
If you need to share your 3D model (or any other CAD file) with a friend, don't worry. You can convert it into the format they're using and they'll be able to make edits in their CAD program while still getting the original 3D design features you need. Plus, you can easily convert your CAD files to PDF for printing or sharing via email.
Multiple People can work on the Same Project at the Same Time While Using CAD Design
 By using this technology, different stakeholders can work on different aspects of a product at the same time. Such as planning and designing. It's easy to operate and communicate when you're using a design system because everything comes with a set of standards. In fact, it's a really good way to avoid clashing designs.
Estimating Production Cost for the Project is Made Easier by Using CAD Design
CAD software not only helps you plan and design your model, but it can also be used to make quick, easy, and accurate estimates related to your project. No one wants to spend all their time designing on a computer. In addition to designing your product manually, you'll have to manually calculate the estimated cost of materials and spend time calculating how much they will cost.
Precision is Increased When Using CAD Drawing
 With CAD drawing, it is much easier to maintain a high level of precision compared to traditional manual drafting techniques. With individual objects, you want to make sure they're aligned and measurable enough for the product design process. Molds have to be designed and crafted very precisely in order to yield accurate results. They also need to be manually validated before they can be used. CAD design is the perfect choice for designers who need more accurate and detailed designs to complete their projects. CAD provides a huge amount of techniques and tools to accommodate any project's needs. You can even create designs that are more than accurate to a millimeter, which would be impossible when drafting manually.
CAD files can be used in other processes, such as 3D printing. If you have a finished CAD file, it can be used for prototyping and in the manufacturing process too because of its versatility. This is not possible with manually drawn designs that would need to be converted into CAD format. So by choosing manual drafting methods you're adding extra cost and hassle to your process as you'll need to do twice the work.
Follow Milestone PLM Solutions for Mechanical Industry Updates, CAD Tips and Global CAD, CAM & FEA News.
Milestone PLM Solutions  with its exclusive delivery center in India is a global CAD, CAM & FEA services outsourcing partner serving the needs of the Mechanical, Millwork and Automotive industry since 2004. MILESTONE focuses on the unique needs of clients and believe in tackling real-life problems with efficiency, smooth and ease.
The MILESTONE team can assist you with Product Design, 3d Modeling, Drafting & detailing, Reverse Engineering, FEA Analysis and more. We support multiple software including AutoCAD, Solidworks, Catia, NX, Inventor, Solidedge & Ansys etc. Our approach is to provide a dedicated team for each customer over ongoing project and deliver the quality output consistently.
With our state of art technology and large talent pool of Engineers, we are developing best in class solutions for our customers across the globe. We align with your culture and values to form unbreakable partnerships and are primed for success with over 100 employees and 150 customers in the US, Europe, India, and Asia.
For more queries regarding any of the above-mentioned topics, feel free to connect with us on our website www.milestonetech.net or contact us on  +1-844-598-0005