A Step-by-Step Guide to Building a Robust BIM Infrastructure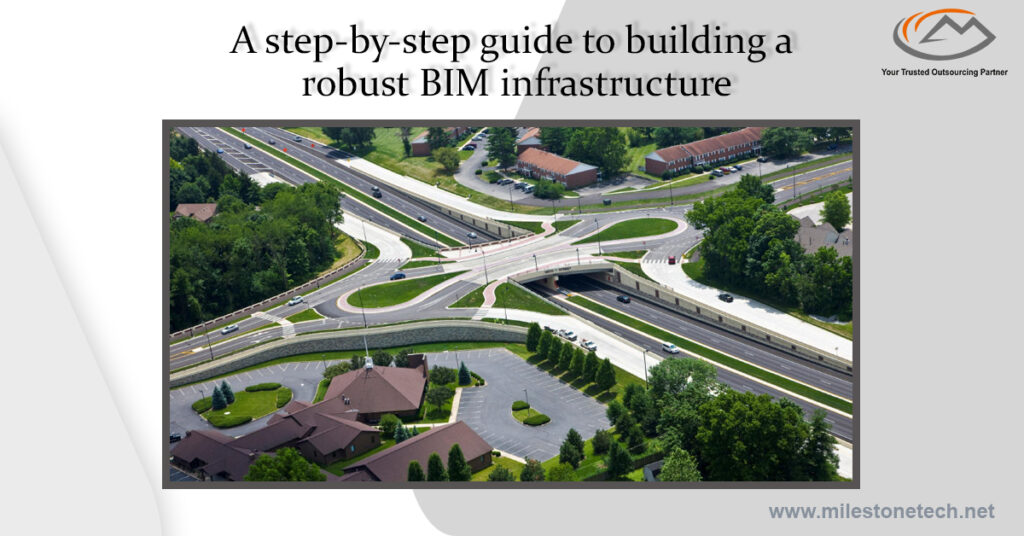 BIM, the process of 3D modeling, is becoming a "must-have" for the world. Architects and construction professionals use this tool to efficiently plan structures that are both efficient and creative in design.
Benefits of using BIM
Building Information Modeling can be explained as the software that architects and engineers use to create models of how a building might look. It also contains information about the design, construction, and maintenance of all the materials being used. Developers and construction companies have come to expect that BIM will change how teams work together on projects and so it does.
Once you understand the benefits of building with BIM, step by step, you'll save time.Projects can be tracked and progress increased. There are less clashes that may lead to delays in construction.
➡
Execute
⭐ Design BIM Infrastructure
⭐ Automation
⭐ Design Content
➡ Team Enablement
⭐ Practice and Education
⭐ Decide and equitable
➡ Project Execution
⭐ Program collaboration
⭐ Model Management
⭐ Information sharing
For Building your BIM Infrastructure Follow These Steps
➡ Step 1:Start from the foundation
It is important to have the infrastructure and software up to date for BIM so that you can implement it faster and so you know what BIM is really about. Know the process, workflow, and everything else needed for BIM.
⭐ What can we do to make the BIM Software more effective?
⭐ A step-by-step approach to strengthening your BIM Infrastructure?
⭐ Have you spent time thinking about how much time your work will take? For example, are the processes, workflows, and systems created taking into account how much time it takes to
In an attempt to develop a BIM, it is important to store all the information securely and efficiently. A large amount of data needs to be stored, which could prove tricky.
➡

Step 2: Get to know BIM
Understanding BIM can help you find efficiencies in how you assemble and use building information. Find out how it will impact your team and identify the relevant methodology for success.
➡

Step 3: Build the Right Team
It's important for BIM initiatives to start in a limited scope; and it depends on the talent that is available. The project's success is dependent on finding the right individuals to drive the pilot, and the people must be qualified for this position.
⭐ Should have training in 3D design, or experience with BIM.
⭐ You should also understand the traditional structural plan and construction management process.
⭐ The applicant is willing to learn new software and systems quickly.
⭐ They are able to coach other team members.
➡

Step 4: Create a Management Plan
BIM calls for changes across a organization, including areas in addition to engineering drawing departments. Its strategies introduce complexity into many areas of work, which is viewed as a cultural change by many. The new way with work is more transparent and well documented; this demands accountability and collaboration. So, the plan to roll out BIM across the construction enterprise would need to take into account several pivotal questions like:
⭐ The BIM team has outlined how they plan to modify workflows in order to create a better working environment.
⭐ Who's qualified to attend the training, and when will it happen?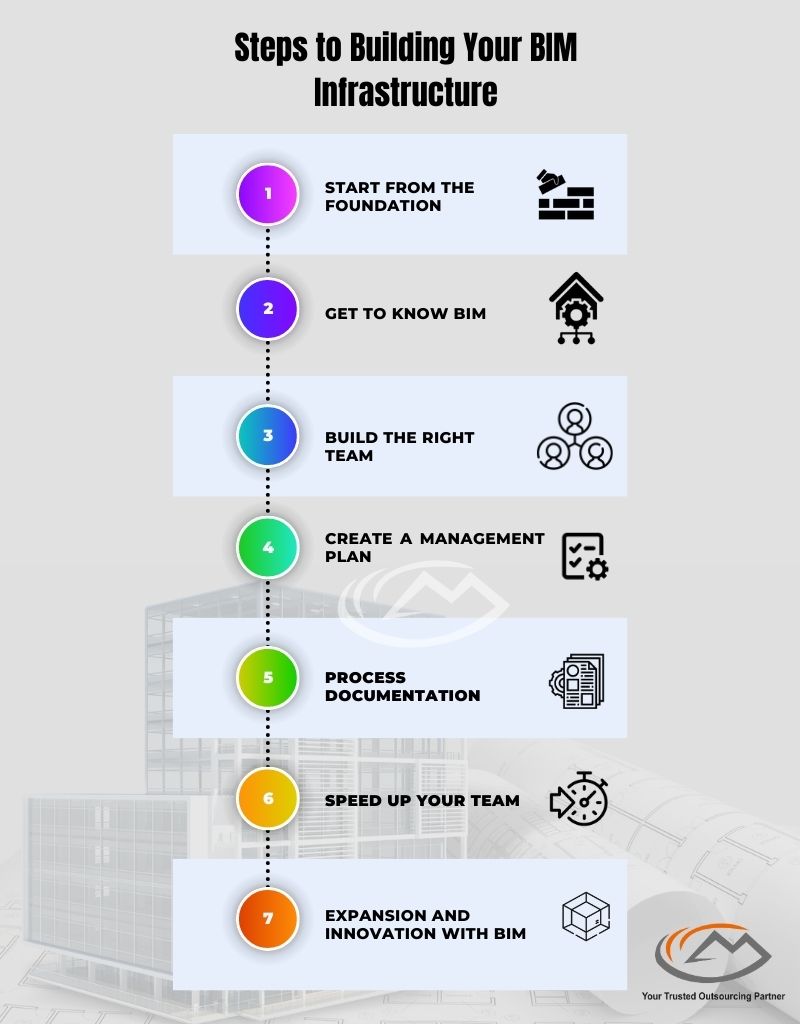 ➡ Step 5: Process Documentation
Once you have set up the initial process, it is important to note down any learning and keep track of ongoing progress.
⭐ Data collected by a project team,
⭐ Including key contacts and important processes to manage data exchanges, kick-offs, and quality control.
⭐ BIM technology will lead to the development of vision for site analysis as well as construction.
➡ Step 6: Speed up ur Team
As part of the transformation to BIM, you should use the existing structures in place and train employees. The most significant tool is BIM champions who can help overcome the challenges of change. These champions should provide support and training as members of your team learn how to use new tools and techniques.
➡

Step 7:

Expansion

and Innovation with BIM
Inspect for errors and develop a schedule early on. This will help to optimize material usage, decrease labor hours, and even to finish projects under budget.
You'll be able to construct a better structure with BIM Infrastructure. As BIM technology becomes more dominant, construction organizations are aware that they must prepare their teams to adapt to these changes. Change is never easy, and a step-by-step guide will most likely lead you to success.
How Milestone PLM Solutions can help you gain expertise in your business?
Milestone is a multidisciplinary company and caters in CAD drafting and modelling, AEC and BIM services since 2004. We majorly work in Mechanical, Architecture and Civil domain across te globe. With a team of experts, we can help you and your team in performing better and faster than your competition. You can outsource you CAD Design, Modeling, rendering, Construction documentation and BIM services, and we assure to you guaranteed quality results with the quickest Turn Around Time possible.
You can email us at info@milestonetech.net and can log in to our website www. milestonetech.net  to know more about our services and our work portfolio or contact us on  +1-844-598-0005