Why use FEA (Finite Element Analysis)? A Complete Guide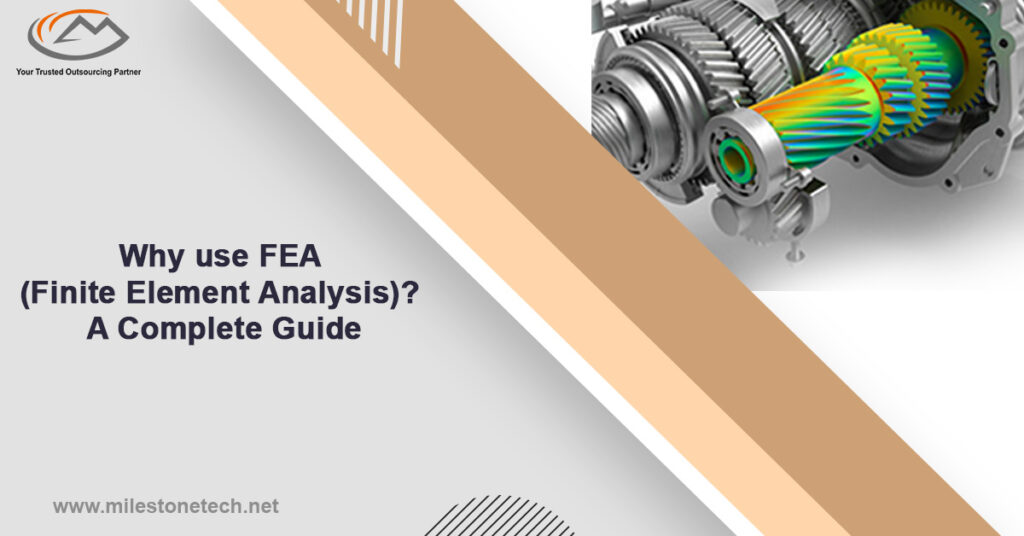 Most people who work in engineering design understand that finite element analysis is a statistical procedure for estimating how an object will react to real-world forces. This can be important when Developing and Product since it may help you save on designing the product, and make it more durable and reliable.
If you include FEA in your product development process, it will result in shorter development timelines, lower costs, and a more robust and reliable product. With FEA, you can 'test' your design before investing in prototype development. Learn how it may perform in varying conditions, and what effect these changes will have on your product's overall stability.
Finite Element Analysis is used in almost every engineering field. It's used in the aerospace, automotive, biomedical, chemical, electronics, energy and plastics industries. FEA Software: Cosmos, Solid works Simulation, Ansys, Nastran, Hypermesh, Ansa etc. Now, you came to know why use FEA (Finite Element Analysis).
What is FEA (Finite Element Analysis)?
FEA helps with product development by anticipating design flaws. This helps to lower the risk for companies. It is also a methodology which can forecast function over time of a component or assembly.
With FEA, you can test the effects of various situations on your design while not necessarily having to create a physical prototype. FEA has been used along with other simulation tools in product development helping save money and time by reducing the number of actual prototypes. It is utilized in conjunction with other simulation tools like CFD (computational fluid dynamics) and motion analysis.
FEA (Finite Element Analysis) Applications and Types
FEA is used for a wide variety of analyses, the list given below are the most common types and their applications.
Linear and Non-Linear – Analysis can either be linear or non-linear. Non-linearity occurs when some variable changes during the analysis.
Non-Linear Analyses take into account non-linear phenomena like a balloon that expands and contracts as it inflates. Therefore the effort required for the balloon to be inflated fluctuates with time. Linear analyses do not consider these fluctuations.
Linear analysis can be scaled immediately with a doubling of the load. The result will also be doubled, so if you are wondering about how much FEA analyses you need, a linear analysis will be enough for small cases.
Static and Dynamic – When stresses vary rapidly with respect to time, the structures mass and stiffness can make a difference to how the loads are transferred. When simulating a phone falling from your pocket, if it is heavy enough, it needs more support from the structure before it will fall.
Comparative and Absolute – Can a percentage change suffice for the analysis to produce the correct results? Suppose you had a successful product with ambiguous loading requirements. Design changes to the shape, for example, might improve or degrade the performance of it if we don't know what percentage of force is being utilized on the spring.
Benefits of FEA (Finite Element Analysis)
With FEA, you have the ability to design efficiently and get more information. You can also solve different questions such as:
How could machine learning help you to foresee and avoid probable failures of a product before releasing it?
How would this affect the customer impression of your product?
What is the impact of fewer warranty claims on your cash flow?
What if your expenditures for prototyping and testing were slashed in half or even quarter? How much faster your product can get to the market?
Would you like to know the bearing capacity, distortion or resonance of your structure?
How can engineers save on material by making adjustments?
It is important to include the FEA phase when you are implementing a development plan. With this phase, you can discover any issues and find a solution with your product before any materials are ordered.
Advantages of FEA (Finite Element Analysis)
Plan ahead for design with engineering drawings.
Manual calculations are too complicated: use this guide.
To optimize any project before production, use the following variables: stress, mass, heat.
Get a better understanding of how they will interact and eliminate uncertainty during the design phase.
Things to Consider about FEA
Engineers use FEA to determine how a real-world product would respond under different circumstances.
FEA allows for the early stage development of products, which could lead to better overall product quality.
Before prototyping, you can use FEA to test your design for stress and fatigue.
Different types of FEA exist. You must consider the nature of your business,materials, and methods before choosing which type to use.
If you are deciding to have an FEA performed on your design, make sure you hire a good analyst with experience and know what you want to do before undertaking the process.
Document your assumptions and that should help reduce any discrepancies.
How Milestone PLM Solutions can help you gain expertise in your business?
Milestone is a multidisciplinary company and caters in CAD, CAM & FEA services since 2004. We majorly work in Mechanical, Mill-work and Automotive domain across the globe. With a team of experts, we can help you and your team in performing better and faster than your competition. You can outsource you Product Design, 3d Modeling, Drafting & detailing, Reverse Engineering, FEA Analysis and we assure to you guaranteed quality results with the quickest Turn Around Time possible.
You can email us at info@milestonetech.net and can log in to our website www. milestonetech.net  to know more about our services and our work portfolio or contact us on  +1-844-598-0005