5D BIM: The Cost Manager's Secret Weapon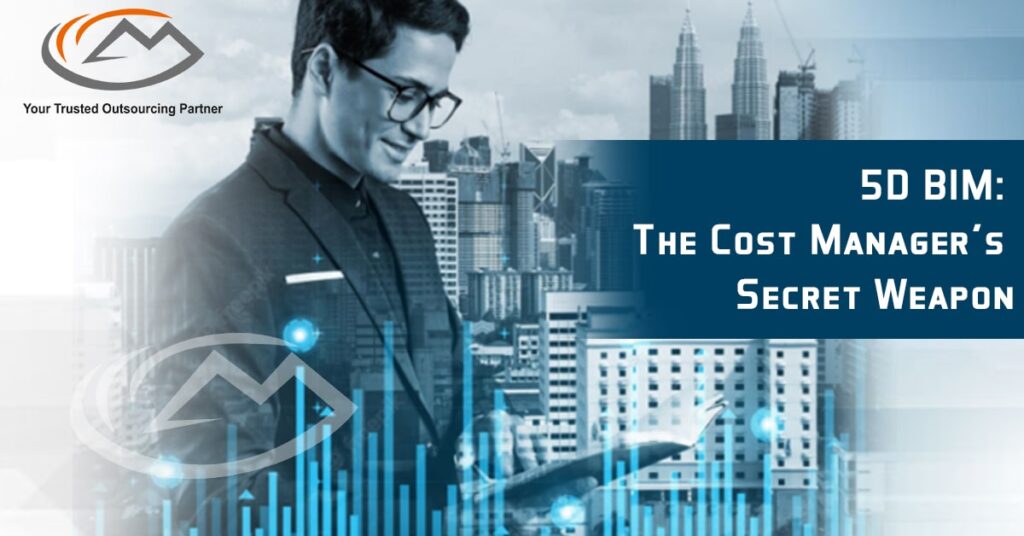 When designers use a 5D BIM process, they can consider both the cost and benefits of investments. Using traditional methods to calculate costs with 2D models is time-consuming, often leading to mistakes and difficult manual take-off measurements. By measuring your projects in the integrated space, you not only save time but also get a more accurate estimation of costs for every project.
5D BIM is a cost estimation tool that automatically calculates the quantity required of products. With its ability to provide accurate estimates in real time, it saves time and money. It also mitigates any revisions that may be needed later on, potentially reducing construction costs. In today's ever-changing business environment, cost managers need the right tools to stay in the game. In this blog, we will explore the challenges faced by cost managers, how 3D BIM addresses these issues and why 5D BIM is such a crucial technological tool.
Challenges for cost manager with traditional methods
The 2D cost estimation process isn't always easy. There are trouble areas like:
Many cost-tracking methods are outdated, making cost change tracking difficult.
Inability to estimate the cost of a particular project.
Disparate and non-standardized processes throughout the project.
The inability to identify and solve market or contract variances in construction costs the company money.
How 5D BIM cost estimation benefits cost manager?
5D BIM is an automated method, which makes it easy and accurate to derive BOQs. Cost managers can save time on manual quantification, remove human error and even mitigate interference from a project manager. Here are some benefits of using 5D BIM for cost estimation.
Quick cost Estimates – 5D BIM's automated quantity takeoffs help cost managers to save time and ensure that estimates are precise and accurate. Our system frees managers from the manual quantification so common in the industry.More control over costs is just a click away. As your contractor, you can use a 

3D model

that allows for automated readjustments to changes and alerts stakeholders during any stage of construction.
 Accurate quantity take-off due to reduce material quantification errors – Our live-linked cost data and quantities ensure that all the aspects of the calculation are constantly updated when any change is made regarding design or structure. This reduces errors and enhances efficiency and productivity, which ultimately helps boost sales.
Reduce project timelines – A 5D BIM model helps stakeholders understand and create project designs that are realistic and time-saving. When all the stakeholders are on the same page with a realistic understanding, projects will be completed as planned, have positive business impact, and result in better ROI.
Rapid revision and in proposal and design with complex combination – We can help your design team save time and money by using 5D BIM. It's an automated process that allows our team to evaluate multiple design prototypes or options without relying on your designer's interpretation of the data. Corrective variations in estimates saves you time with building quick and accurate estimates of cost prototypes.
More flexibility and informed decision-making process with pre-visualization techniques – 5D BIM can be linked with a 3D BIM model to facilitate identification and resolution of clashes during the initial stages of construction. This allows for more flexibility in terms of deciding on the project materials and cost.The three-dimensional visualization helps project stakeholders gain a better understanding of various factors that affect the overall cost. Construction firms can compare various cost estimates as per agreed or target costs. This will help them make informed and smarter decisions in relation to the project's design.
Greater project over control cost estimates and budget –Automated Quantity take offs help cost predictions and budgets by allowing them to easily monitor changes and make sure the project stays within the scheduled price. This improved predictability and management helps keep costs under control and helps managers stay on track with their project budget.
Easier analysis of  project risk –5D BIM offers a detailed look at the costs of each material and when construction projects should be completed in order to avoid financial losses. The information that is available data can help everyone from project owners, contractors, sub-contractors, etc. achieve goals collaboratively.

Timely delivery

Costing efficiency

Project quality
How automated quantity take-off impact overall cost?
Five-D Cost Estimation helps companies save time and money when they need materials. It saves them time because it automatically produces a list of the materials they use, and it's tailored to the construction site. It also helps you get more accurate quantities at a faster pace by connecting data with every single item in its inventory.
Combining 5D with AR/VR
3D and VR technology is creating some significant changes in design today. Those changes include an increased level of realism and increased accuracy. Projects can also be created to a higher degree of finish as these technologies are combined with BIM. Before construction, stakeholders will have the ability to virtually see your designs before building them out.
Augmented Reality allows the users to virtually explore a virtual space. It's an exciting new perspective, and with most smartphones now featuring GPS and gesture recognition systems, walk thorough just got a whole lot easier.
Finally it maybe included
Cost estimates play a key role in the successful delivery of a construction project. Cost managers can leverage 5D cost estimation during their conceptual phase to plan and give valuable advice on multiple design proposals. 5D also enables them to refine these estimates as the project progresses, giving them higher opportunities for extra work that elevates the value of their services.
How Milestone PLM Solutions can help you gain expertise in your business?
Milestone is a multidisciplinary company and caters in CAD drafting and modelling, AEC and BIM services since 2004. We majorly work in Mechanical, Architecture and Civil domain across to globe. With a team of experts, we can help you and your team in performing better and faster than your competition. You can outsource you CAD Design, Modeling, rendering, Construction documentation and BIM services, and we assure to you guaranteed quality results with the quickest Turn Around Time possible.
You can email us at info@milestonetech.net and can log in to our website www. milestonetech.net  to know more about our services and our work portfolio or contact us on  +1-844-598-0005