4D BIM Modeling: A Tool for Improving Building Operations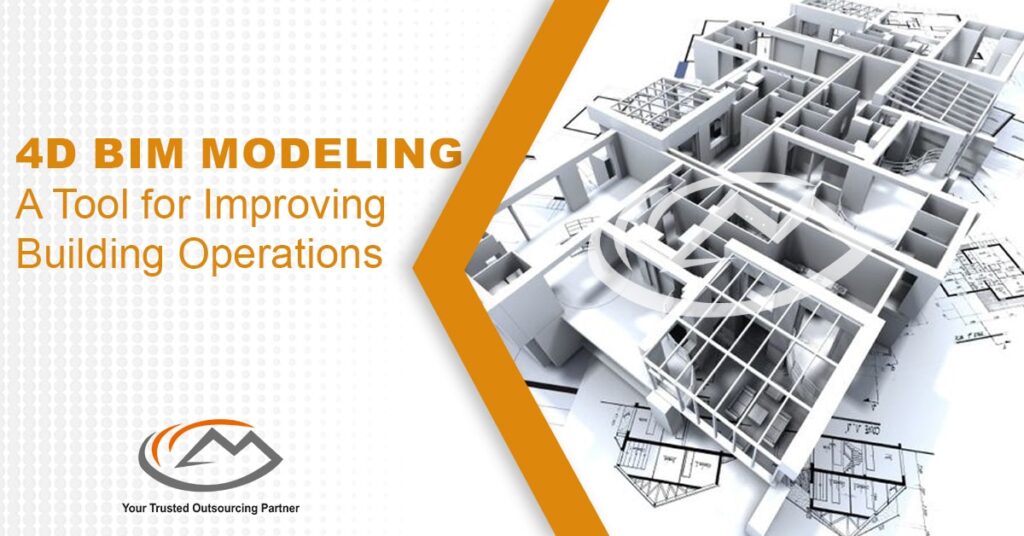 The popular saying that "time is money" is as old as ancient Egypt. Inventions like the Gantt chart, named after Henry Laurence Gantt, a mechanical engineer who designed it in 1910 to monitor progress against time constraints, have been around for decades.
This visualization technique has been around for a long time, but it falls short when it comes to creating a project timeline. 4D modeling allows you to view a project in 3D, seeing the entire workflow and timeline all on one screen. Though the concept of 4D scheduling has been around for over two decades, companies haven't had the support needed due to some challenges that prevent people from even considering it. 4D scheduling is becoming increasingly absorbed by emerging technologies, which have made it easier than ever before with Building Information Modeling (BIM).
BIM services give your project the edge with a wealth of 3D data that's essential for architects and home builders. With the added benefit that it can help simplify complicated processes for those involved in the actual construction of your building, like BOQ and quantification and so on.
Project planning can be tricky because it requires coordination between design, construction and operations. A recent development in this space is the project planning tool, a system for managing placement of buildings and their components. What's more, 4D scheduling has played a significant role in project planning.4D model introduces strategically important data to the project team. It provides time-sensitive, exact details about any component of your project.You can use 4D construction simulation process to visualize how your building is put together. With this platform, architects can create and view life cycle simulations of many options, making it easy to make an educated choice.
Benefits of 4D scheduling with BIM platform
Vendors using a BIM platform often have improved product quality and time efficiency. They also benefit from reduced risks to construction, increased project satisfaction, better conflict detection, and increased data visualization. With these benefits come two types of intangible–and equally important–benefits: communicating project parameters visually for home building owners and stakeholders (Architecture Industry) and for engineering industry stakeholders (Engineering Industry).
Tangible benefits –Companies today are always finding new ways to stand out from the crowd with their marketing. We do the same by meeting your needs in four key areas- Savings in Cost, Time, Risk Mitigation, and Conflict Detection.
Intangible benefits –The communications team will prioritize project transparency and clear parameters with the business and non-technical stakeholders in order to get more buy-in.
4D modeling offers significant benefits over 3D modeling
4D models, unlike 3D models, don't have to make assumptions about the shape of the project- they just need to know what resources need to be allocated versus time. Significant considerations are as follows:
Visualization of the project –4D model was designed with construction projects in mind. The scheduler can move around, look outside, inside, and under the building to make sure progress is going as planned. 4D models help reduce confusion earlier on in the project and avoid future issues that could ultimately cost a lot of money.
Better integration and cost estimation –The 4D BIM is a multi scale and multi-process modeling system. The system integrates with human resources, equipment, materials, and engineering. Using 4D BIM allows more granular planning and cost estimation of projects so the team can better schedule their work. It also monitors procurement status of project materials as they move into production.
Conflict detection and resolution –During design and construction phase, potential spatial conflicts may arise that are not easily identified or predicted with 2D or 3D layouts. However, a 4D model can identify these issues and resolve them ahead of the construction process in order to save time, money, and other resources.
Improve time management –4D is incorporated into the 

BIM modeling

 process so that both the owner and the project team can view time constrains and opportunities of improvement and investment.
Maximum of critical resources –4D model allows you to evaluate various options and resources throughout the project in order to optimize the entire process.
4D project planning with BIM
Add the schedule date to your project model components, and you can improve the plan by bringing in information from various divisions. With time, pro-grammatically link a BIM model to the progress of the project and evaluate different construction options. There are two methods for linking a BIM model to your project-
Easy revision and approval in REVIT, backed by MS Project.
Displaying a REVITBIM in 4D
First method: REVIT is now directly linked to MS Project
AUTODESK has developed a new software tool that establishes a bidirectional link between REVIT and Microsoft project to track the progress of the project against preset deadlines. Another function of this software is that it allows for exporting components from REVIT to MS project for quick scheduling. In addition, software also enables someone to import components from MS projects labels with start and finish dates.
Changes are incorporated and updated automatically with REVIT. The project team is able to view progress, no matter what phase of construction it is, in the architecture design software. This information helps them analyze whether there are any lackadaisical responses, which helps the project run smoothly.
Second method: 4D visualization
Innovaya Development Corp. has developed a 4D planning and conductibility analysis tool using technologies like REVIT/BIM with Microsoft Project, which integrates 4D visualizations of the building objects in addition to data that can be exported to the Innovaya file format.
REVIT is an easy-to-use, comprehensive 3D modeling and detailing workflow that focuses on the necessities of project planning. REVIT includes a standard 3D/4D environment for both standard model navigation as well as 4D visualization
To help you stay on top of your schedule, we've developed tools such as Visual Estimating 9.4 and all-in-one estimating solution to integrate AUTOCAD and REVIT. Using tools like these can help streamline the design process and save time in the long run.
Conclusion
As the industry is moving more and more towards BIM, home builders and architectural design firms are turning to 3D supported BIM. Designers can show clients and prospects what their building will look like after construction before it's even started. This saves a lot of time and money for the developers. 4D virtual modeling has also gained traction in AEC industry, with significant benefits for all involved parties: improved coordination between designers, builders and business owners; smooth transferral of initial project planning; cost savings on time and resources.
Follow Milestone PLM Solutions for AEC Industry Updates, CAD Tips and Global Construction News.
Milestone PLM Solutions  with its exclusive delivery center in India is a global CAD, BIM outsourcing partner serving the needs of the AEC industry since 2004. MILESTONE focuses on the unique needs of clients and believe in tackling real-life problems with efficiency, smooth and ease.
The MILESTONE team can assist you with DD Set, CD Set, BIM Modeling, Rendering, walk through and more. We support multiple BIM software including AUTOCAD  REVIT, Architecture cad, Vector works etc. Our approach is to provide a dedicated team for each customer over ongoing project and deliver the quality output consistently.
With our state of art technology and large talent pool of Engineers & Architects, we are developing best in class solutions for our customers across the globe. We align with your culture and values to form unbreakable partnerships and are primed for success with over 100 employees and 150 customers in the US, Europe, India, and Asia.
For more queries regarding any of the above-mentioned topics, feel free to connect with us on our website www.milestonetech.net or contact us on  +1-844-598-0005