3D CAD Modeling in Mechanical Design Tools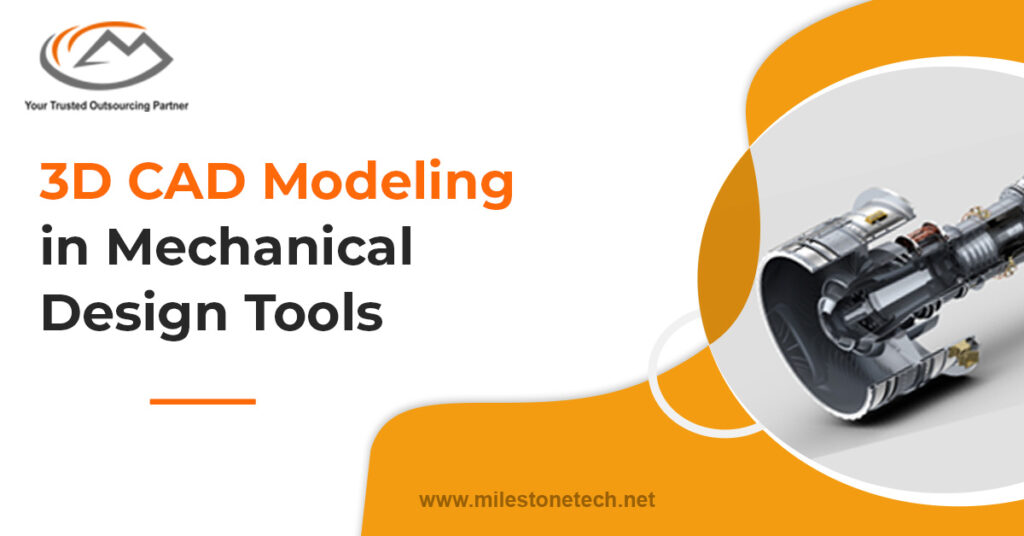 Engineering designs and drawings can take up a lot of time. Using traditional drafting strategies, designers have to be exact in documenting what they design.
Often in the development process, typos or mistakes are made late on which makes it difficult to go back and correct. The content is created over many stages with inconsistent quality.
3D CAD modeling in mechanical design tools is becoming popular because of its mechanical and design capabilities.3-Dimensional software has become fundamental in the field of engineering design, and especially mechanical engineering.
The main reasons for using 3D CAD modeling for mechanical engineering design tools are:
Improving the Design Quality 
Mechanical engineers can create designs for 3D CAD software starting with a library of more than 7,000,000 standard mechanical parts. This function can be utilized by modelers, engineers & designers to design in a successful way.3D CAD is an effective way to define a product design and optimize it for multiple purposes. This also ensures the accuracy of your designs, leading to better quality.
Boost Productivity of the Designer
3D CAD modeling has helped designers to visualize the quality of their design, even at the early phases.3D CAD modeling decreases the time it takes to produce a new iteration, as well as manual creations. By understanding the final rendering and making changes where necessary, there are fewer changes and iterations needed.
Quick and Simple documentation
A CAD model makes it a whole lot simpler to document the design of a mechanical project. CAD models essentially make it easier to predict and plan your design, which is really useful. It makes the foundation of a mechanical project very strong.
Compliance of International Standard
The International Organization for Standardization (ISO) has created a checklist of CAD strategies that is both deliberate and standard. The goal is to ensure that the drafting system is safe,
consistent, and sustainable. All ventures promise their products and services will be more secure to use, and they're more aligned with the global standards. When designing a mechanical engineering project, it is important to follow global design guidelines. These design norms protect the integrity of a product while producing in a  few different countries and being sold across borders.

Digital Redrawing
3D CAD redraws hidden segments of a design if the design changes, reducing the chance of a mistake and lowering the time to produce drawings.
Great Visualization
With 3D CAD modeling software, you can graphically illustrate and animate the product. This will help the client visualize their product and understand how they work, while making it easier to negotiate a design.
The 3D design system simplifies the design process and makes it easier to generate accurate forecasts. You can also customize any individual design component by changing information as necessary.
Saving the Data & Drawing for future use
Mechanical engineering ventures, designs, and work can be saved in CAD and 3D modeling. Designs are stored for future reference and can be given to clients as well as anyone who needs them. Mechanical design has changed completely.
Integration
CAD design software gives the ability to extract accurate shapes, layouts, isometric drawings and other diagrams. Having everything in one file can easily be shared by everyone on the project and allow better management of the design process.
How Milestone PLM Solutions can help you gain expertise in your business?
Milestone is a multidisciplinary company and caters in CAD, CAM & FEA services since 2004. We majorly work in Mechanical, Millwork and Automotive domain across the globe. With a team of experts, we can help you and your team in performing better and faster than your competition. You can outsource you Product Design, 3d Modeling, Drafting & detailing, Reverse Engineering, FEA Analysis and we assure to you guaranteed quality results with the quickest Turn Around Time possible.

You can email us at info@milestonetech.net and can log in to our website   www. milestonetech.net  to know more about our services and our work portfolio or contact us on  +1-844-598-0005