3 Ways the Construction Technology Industry will be Disrupted by BIM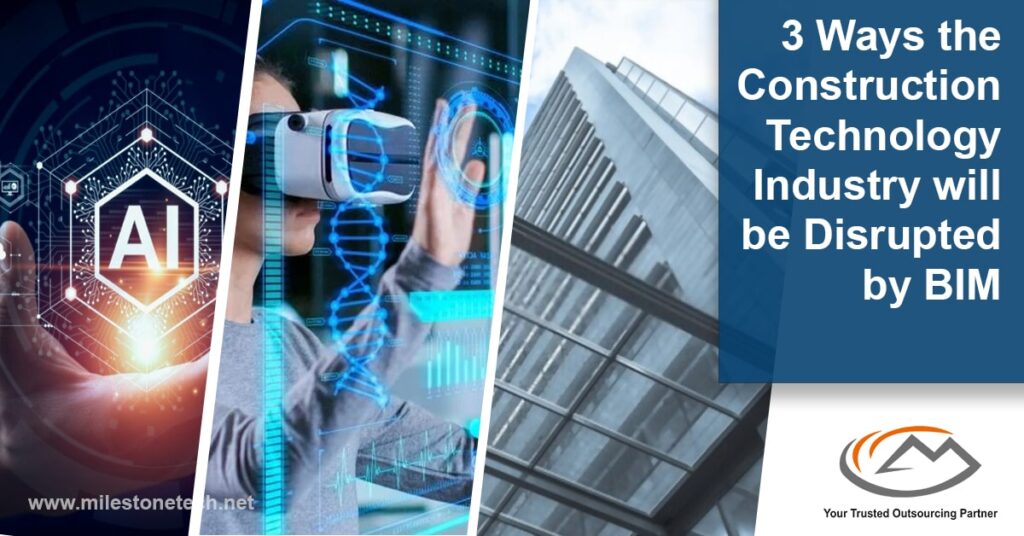 The construction industry is on the cusp of a paradigmatic shift. There has been a historic improvement in construction due to technology. New changes are coming about in technology and will ask for smarter practices in the industry.
With new methods of collaboration and project delivery, the ability of BIM (Building Information  Modeling) processes is now being acknowledged as delivering a better performance through more streamlined approaches.
Building information modeling (BIM) With the support of new technology, CDA is becoming accepted by more people. Long before this change happened, it was catalyzing a change in the way we manage, design, and develop construction projects.
Being able to capture project data in a more structured way, also means that the accuracy is increased. And sharing information with other stakeholders becomes much more efficient.
In addition, further development in BIM will make construction projects more productive and safe. This advancement will include sustainability and safety measures.
However, the value of BIM will only become apparent as tomorrow's technology takes hold. By providing a more detailed data modeling and its seamless integration with other software systems like ERP, the benefits BIM offers will become the foundation for some truly disruptive processes.
3 Ways of Technology that Depend on BIM to Help Them be Successful
Artificial Intelligence
AI can be used to improve the initial design modeling, project planning, and diagnostics of a project. However, AI needs accurate data to work properly. Structured data such as BIM can provide this for AI machines to use.
Builders are now able to make use of AI to experience their construction progress in real-time. With BIM driving the AI, builders can visualize an entire project and experience the interactions between parameters and factors beforehand.
Some things such as building information modeling with real time AI can help construction managers assess the site for safety and can make sure no one gets injured.
If construction sites had better warning systems, they could reduce the potential risks. For example, heavy machinery can be more easily coordinated on the construction site if on-site risk is eliminated through prior warning before dangerous events take place.
AI is a machine's ability to learn like a human does and incorporate new information to develop its intelligence system. AI comes in many different branches, but machine learning is the current sector that most affects society. With more data exposure, machines are also able to understand users better and provide insights. In construction, artificial intelligence has allowed for streamlining some of the processes and reduce cost, time and risk while improving on the quality of output.
Programmable building information modeling software have already begun to use AI to improve efficiency and potential. For example, software will use machine learning to detect patterns in data and make independent decisions on how to automate the construction process. The AI can collect tons of data which is used to explore possibilities and find solutions more efficiently than a human mind could ever achieve. Not only does this reduce human error and make processes quicker, but it improves safety as well by avoiding human error.
AI can push building information modelling to the next level. This is due to the fact that productivity in construction has been an issue for a long time, slowing down the industry. It's become common knowledge that Construction  Technology is accident-prone, meaning safety measures are prominent. Artificial intelligence and BIM software have improved safety measures.
Sensors and monitoring technologies now identify risks before an incident happens. BIM software can identify these issues from watching Construction Technology workers on sites with high-rise buildings.
Augmented Reality
Augmented Reality, you can see a modified version of the real world through a lens. It is a new trend in the construction industry because AR visualize before you build.
Augmented reality can help builders evaluate changes on the spot and see if the project matches their initial plan. This will also save money because they won't need to do it again.
AR has the potential to allow people who are in different locations to collaborate on shared projects. It can also be used to provide more contextualized training.
To ensure that accuracy is maintained, it's best to use BIM models as a base. This will ensure consistency, accuracy and efficiency.
Sustainable Construction
Sustainable design has transitioned into a strategic imperative in recent years, both in the incorporation of green technologies and reducing waste in energy, materials and expense. Similar to sustainability, BIM has also advanced to promote the reductions in environmental impact that are necessary for sustainable design practices. BIM helps to drive sustainable building practices and provides improved and more energy efficient buildings.
Construction technology disruptions that are changing the way we work
1.Data delivered is a key value of BIM. Comprehensive planning, accurate information, and monitoring will help improve services.
2.Steps to cut building design time in half with BIM.
3.Construction professionals around the world have been using BIM to deliver complex and involved projects. Today, as the world of construction is changing, it's time for the role of BIM to evolve too.
Follow Milestone PLM Solutions for AEC Industry Updates, CAD Tips and Global Construction News. 
Milestone PLM Solutions  with its exclusive delivery center in India is a global CAD, BIM outsourcing partner serving the needs of the AEC industry since 2004. MILESTONE focuses on the unique needs of clients and believe in tackling real-life problems with efficiency, smooth and ease.
The MILESTONE team can assist you with DD Set, CD Set, BIM Modeling, Rendering, walk through and more. We support multiple BIM software including AUTOCAD  REVIT, Architecture cad, Vector works etc. Our approach is to provide a dedicated team for each customer over ongoing project and deliver the quality output consistently.
With our state of art technology and large talent pool of Engineers & Architects, we are developing best in class solutions for our customers across the globe. We align with your culture and values to form unbreakable partnerships and are primed for success with over 100 employees and 150 customers in the US, Europe, India, and Asia.
For more queries regarding any of the above-mentioned topics, feel free to connect with us on our website www.milestonetech.net or contact us on  +1-844-598-0005