Design for Manufacturing & Assembly | Region: INDIA
Industry: Heavy Engineering
CLIENT PROFILE:
Leading Defence Equipment manufacturer in India.
OBJECTIVE:
Development of support structure, concept to detailing.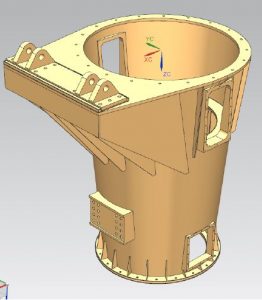 Business Challenge
The main aim of this project was to create sub-assemblies and sub parts from main assembly in UG-NX software from manufacturing point of view, then create assembly model. Assigning Attributes to parts. Prepare manufacturing drawing for welding and machining operation in UG-NX.
We have to split all the parts from single merge assembly body to create individual child parts in a form of a sheets and machined blocks
Also while separating the bodies we have to consider what are the client standards for purchased parts. For example: square, rectangular, circular tubes etc.
 Manufacturing drawing has to be done as per the actual manufacturing process. At the time of welding process, the part will be like whole block with extra stock without any machining operation, machining process will be done later on after welding process to get desired shape with accurate dimensions.
In weld instruction drawing, the challenge was that we have to decide, how the parts were going to be welded, sequence of weld, type of welds to be given according to the part profile considering practical possibilities.
After welding there may be possibility of unevenness in part dimension, which will be obtain after machining, so we also have to consider GD&T accordingly.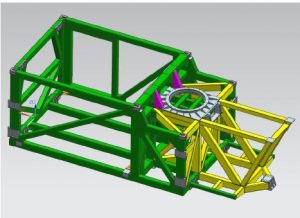 Milestone Solution
Preparing & modifications of 3D model and manufacturing drawings.
 Concept development for Mechanical Design, Welding joints & Sizes, Machining information, GD&T.
3D CAD development, Design review.
For this project, the team involved 3 specialists who have good knowledge of 3D modeling, Welding, Machining, GD&T.
Our designers created 3D models and manufacturing drawing using UG-NX within the delegated time.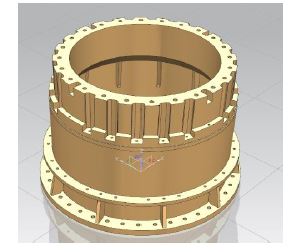 BUSINESS IMPACT DELIVERED:
With proven project management processes and expertise in latest tools, Milestone helps in reducing time and saves effort on complex designing projects.
Using this Cad models results in ease of future modifications in part design, Documentation.
Extensive experience in designing and creating highly precise 3D models, help clients get functional designs in time.