Fan Performance | Region: INDIA
Industry: Consumer Products
CLIENT PROFILE:
Leading Consumer Product OEM in India.
OBJECTIVE:
Fan Blade optimisation for given parameters.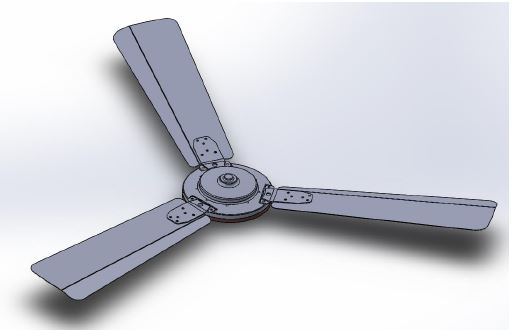 Business Challenge
The main aim of this project wasto carry out various CFD test of ceiling fan to confirm it usability.
Pressure & Speed across air envelope.
Effect of blade thickness reduction ranging from 1.2 mm to 0.98mm
Effect of changing blade angle (range confidential)
Milestone Solution
 Prepared CFD model with mapping all boundary conditions accurately.
For this project, the team involved 1 CFD specialists who have ample experience. Our Analyst created 3D CFD models within the delegated time.
Customer's existing model was analysed as a benchmark performance. Then many iterations were carried out in order to analyse optimum blade thickness and blade angle.
Based on results, optimum blade thickness and optimum blade angle was proposed to customer.

BUSINESS IMPACT DELIVERED:
With proven project management processes and expertise in latest tools, Milestone helps in reducing time and saves effort on complex CFD projects.
Use of CFD, leads to in ease of product development cycle, making it fast and cost effective.
Extensive experience in CFD and creating highly precise 3D CFD models, help clients get functional designs in time.